The Prince and Princess of Wales have praised "amazing" communities fundraising for families left homeless after the devastating earthquakes in Turkey and Syria.
William and Kate visited a west London community centre to hear harrowing stories from aid workers, recently returned from the disaster zone, who described desperate scenes of rescuers trying to free trapped people with just hammers.
The visit to meet partner members of the Disasters Emergency Committee (DEC) Turkey-Syria Earthquake Appeal coincided with the announcement the total had reached £121 million exactly four weeks after its launch.
In a lighter moment, the couple joined two schoolgirls who made hundreds of origami cranes to raise funds for the appeal – and guided the royals as they created the birds from paper.
In the Hayes Muslim Centre the couple were told £30,000 was raised by the local community, with £18,000 from the total collected in just two hours after Friday prayers.
Kate said: "It's sad that there's a need to do funding – it's amazing there are communities like this here raising (funds)."
As a mark of respect the couple removed their shoes and Kate covered her head with a scarf as the centre, which is a resource for the wider community providing cultural, sporting and educational events, is also a mosque.
Islamic Relief aid worker Salah Aboulgasem stressed the hardships on the ground in Syria and Turkey which he has visited regularly in the past four weeks, and how a Syrian schoolgirl died due to a lack of co-ordination.
He told William and Kate about the rescue attempts he had witnessed, saying: "They're hearing voices underneath and they're hammering at concrete – you're working but you know you're not going to achieve anything but you continue to do so."
The aid worker added: "Across the border we rescued a young girl, there was jubilation – a nine-year-old girl. We then put her into the ambulance waiting.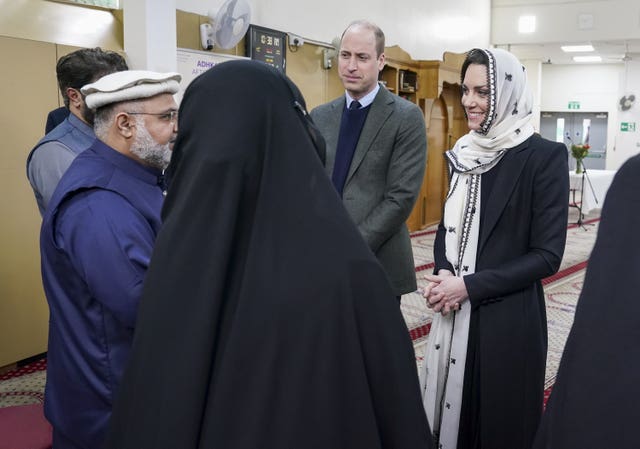 "For 45 minutes there was a road jam because there was no co-ordination – she died in the ambulance. And that just puts into perspective the absence of infrastructure and compounded struggle upon struggle, and the longstanding humanitarian crisis that exists in Syria."
During the discussion William asked if lessons were learnt from events like the earthquake, saying: "Do we get better and better at this so each time, unfortunately, one of these things comes along we're quicker, we're slicker, we get aid to places better – is there a learning process?"
Saleh Saeed, the DEC's chief executive, replied that his organisation was not just a "fundraising platform" but best practice was shared across charities so they learnt from each other.
The funds raised by the DEC, which include donations from the King, Queen Consort and William and Kate, are being used to provide emergency shelter, medical care, hot food, blankets, clean water and safe spaces for children in Syria and Turkey where many people still live in tents.
Before they left, William and Kate's origami skills were put to the test when they sat down with Dila Kaya, 14, and Lina Alkutubi, 15, who made around 700 paper cranes as part of a fundraising effort for earthquake survivors.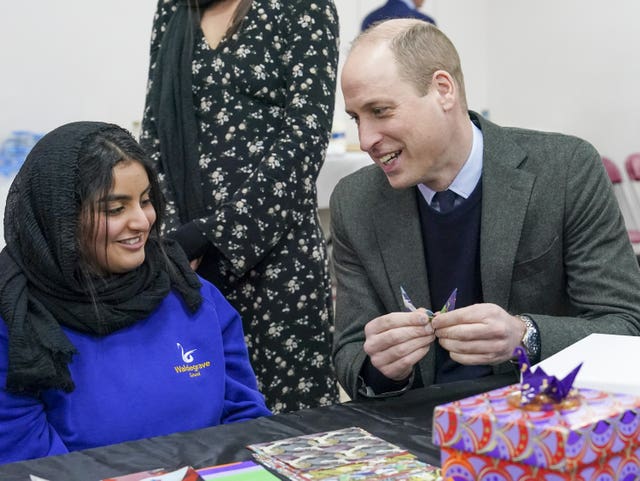 The princess told them: "It must be great for you to do something – because you're so far away," and Lina replied: "It was a really great experience. Everyone was so devastated, so this was really important."
The pupils, from Waldegrave School in Twickenham, south-west London, had partially completed a pair of cranes and asked the royals to finish the work, with Kate describing her attempt as "a bit lopsided".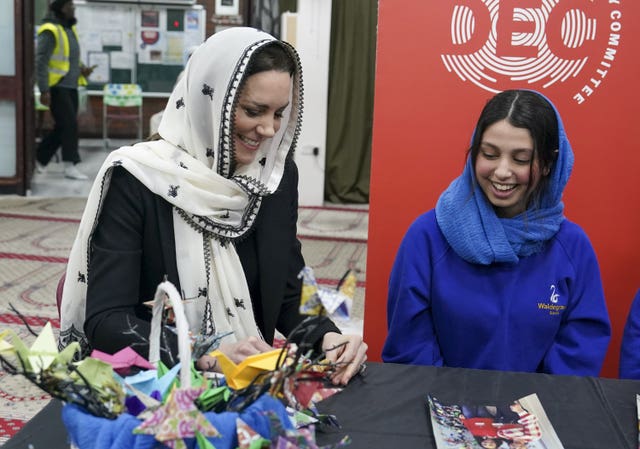 William said his effort looked "more like a digger" and, glancing at his wife's bird, quipped: "Yours has got proper airplane wings – a go faster crane."